US Ralkap Zungpi Pentagon Nih Biden Team Pawl Backround Check An Tuah Duh Hna Loh. (Trump & Biden buaibainak) US Election cu tuchunni tiang buaibainak in a khat i, Democratic Joe Biden lei nih teinak kan hmuh cang an ti na'in, President Trump nih cun Vote dik lo ruangah asi ti'ah kianh a timh loh. Tu December 5, 6 ah hin States kip nih Election Certification cu GSA ah report an pek dih a hau i, Ni 14 December,2020 ah Electoral College nih President ding Votes pekin an thim cang lai. Trump nih cun,EC Votes ka sunghah cun Biden hi President ah ka kianh lai ti'ah a chim cang.
US President sinak dingah zulhding phunglam (Procedure)an nei mi ah cun, General Services Administration(GSA) nih 23 November,2020 ah Presidential transition a onh hnu in, President nih a thimmi Ministers, Security Staffers le Whitehouse Staffs ding Mi- 2000 pawl cu backround Security Checkup tuah ta dih an hau i, a ong mi lawng lawngnih Whitehouse chungah lutkhawhin rian an tuan khoh lai.
President elected an timi Biden nih Ministers-6 le Security Staffers-18 Transition Team pawl cu Trump tangi US Defense Intelligence, National Intelligence Agencies Pawlnih backround zoh/ checknak an tuah duh rih loh ca'ah an buai tuk cang.Trump nih Biden zong Whitehouse chung ah luhter a sianh fawn loh. Tuhlanah cun, First Lady's"Tea Party" zong 1 December poh ah an hmang tawn na'in, tu Kum cu atu tiangin an hmang rih loh.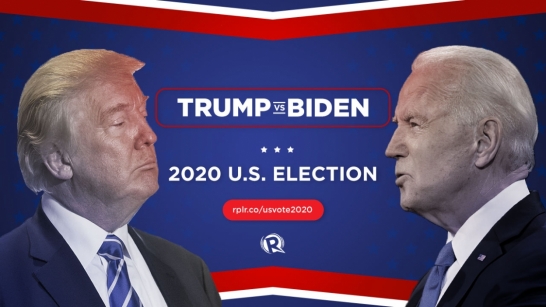 Ni.9 November, 2020 ah khan President Trump nih Defense Secretary Mark Esper le bawizik-3 a phuah hnu ah khan, amah mizumh America Indian Kash Patel le American Jewish Mr.Ezra- Cohen Watnick cu Acting Secretary le Under Secretary of Defense for Intelligence & Security ah a chiah hna. Hi hna pahnih nih hin John Ratcliffe, Director of National Intelligence le Sue Gough, Director of Defense Intelligence tangi backround Security Check Boards cu an thlaih dih. Biden Teams pawl cu zarhhnih leng Checking an tuah duh hna loh.
Joe Biden Transition Team hna hi, spokesman Ned Price le Ex-Director of Defense Intelligence Agency, Vince Stewart nih an hruai hna na'in, Trump Teams lei pawl nih an tuah duh rih hna loh ti'ah Biden Spokesman Ned Price nih a chim/ a au khuang len cang. Biden nih cun Trump chiahmi John Ratcliffe, Director of NIA hi thlak i, amah thimmi Avril Haines chiah dingin General Services Adm. ah heh ti'ah a hal len hna.
Pentagon i DIA le NIA nih Biden Transition Team pawl backround checkup an tuah dih hnu i, an ong hnu lawng lawngah Officials in Cozah rian an thlaih kho fang te hna lai. Cuca'ah, Trump nih Biden hi President ah a pawm hnu in, Order a pek hnu lawngah Biden lei nih Cozah an siam khawh te lai. Election kongah biatak te'in buaibai dawh ding an si rih. Van hngak rih hna usih. Credit: MC Biklian
America cu an pui bak ko hna hih. Atu tiang thimnak kong a buai ko rih. A ho nih dah President a tuan lai ti zong kan hngah cuahmah cang ko hih,Trump Caah Thawngpang Tha. Joe Biden Caah Tahnak, Arizona ah zapi hmuh dingin Republican party pawl nih an tuahmi ah US tuanbia ah a nganbik fiarnak cu Ting 3, vote 300000 an hmuh chuah. Zapi an lau tuk hrinhran cang. Joe Biden te party tuah sernak.
Ka rak chim lengmang cang Supreme court justice ah an phan lai I Trump nih 100% 100% in teinak a hmuh lai ka ti zungzal. Democratic a tanhmi hi tha te in ngia hmanh hna u . Vulei mit in kan fim an ti lai nain Pathian kha zei an rello i An cungah Pathian ai phuang bal te lailo.
A chimmi tampi ka tial ti lai lo. Rak ngaive te u. Khuaruahhar tuah sernak a si caah, tutan ithimnak ah Trump nih a pehthan a si ah cun a zia a chuah lai I, hnawm thianh in a thianh te hna lai. Kha Republican Trump a tanhmi caah thawngpang thatha lih an hmuh cuahmah. Democratic caah cun zeilam dah an zawh cio te lai.
Media pawl, Media ngan pawl nih Joe Biden an dir kamh. Sihmansehlaw media fami pawl nih biatak an dirpi ve. Media ngan pawl cu mipi millions nih an chuah tak hna caah harnak nganpi lamah an I tap cang. By: Joseph Thawng Za Ting
Note: Mipi sinah lunglawmhnak le zaangfah nawlnak: Thawngpang News kan tialmi a kan relpiak tu ka Miphun Chin/Laimi nan dihlak cungah lunglawmhnak tampi chim cawklo kan ngei. Thawngpang kan tialmi nan kan relpiaknak thawngin a dikmi le a hmaanmi thawngpang News kan thlah Post khawh hi mipi nan thawngin asi.
Thawngpang kan tialmi hi careltu mipi caah thathnemnak si hram seh tihi kan itinhmi asi. Chirhchanh Source kan lak hnu ah a dik mi asi lai tiah kan ruah mi kha kan Miphun Laimi Chinmi nih fawizang tein kan theih khawh cio nakhnga theihter khawh kan i zuam. Asinain vawleicung cu tlamtlinlonak a si caah chirhchanh Source kan lakmi tete hi a dik lomi a um khawh caah a dik lomi thawngpang a si tiah nan ruahmi kha zeitik caan paoh ah theihter khawh kan si i, kanmah lei zong in a dikmi thawngpang tial khawh le kan palhmi remh khawh kan i zuam lai.
Mipi nih theih ve hna seh ti na duhmi, thawngpang News siseh, Pathian bia siseh, siaherhnak bia in siseh, capar biazai le theihtlai pawl tialpiak ding a um ahcun zeitik caan poah ah tialpiak le thlahpiak khawh zong a si. Nan dihlak cungah lunglawmhnak le zaangfah nawlnak he- Chief Editor.